Since its inception, the interests of the community have been a cornerstone of the activities carried out by the Center for Entrepreneurship and Innovation as well as Shaasan. Being members of the very communities we serve, we are deeply positioned to understand the immediate needs of the community and respond to them appropriately.
Phase 1
On the 13th of September 2021 (23rd of Bhadra, 2078), CEI's volunteer team conducted a first-aid distribution and awareness training program at Manahari Rural Municipality Ward No 9, which is amongst the most underprivileged municipalities in the district of Makwanpur. Manahari Rural Municipality has been estimated to have a poverty rate of between 55% to 65% which is much higher than the national average that stands at 17.4%. Manahari was selected as the target area for this particular aid distribution and training program in light of the heightened plight of the community, owing to the rising cases of COVID-19 as well as the incessant rates of poverty in the area.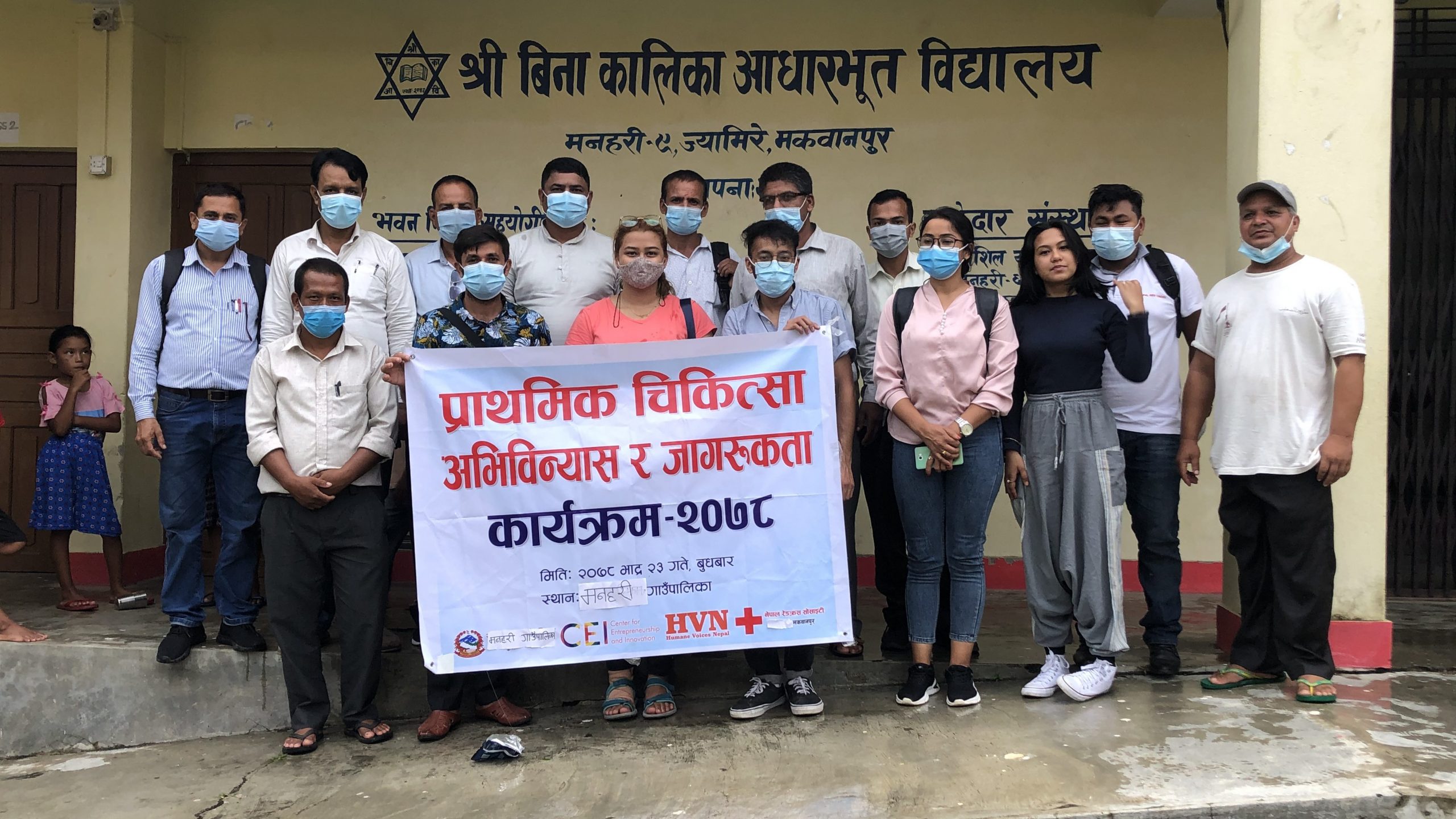 CEI's volunteer team was able to successfully conduct an aid distribution as well as a training and awareness program that was designed and catered to the community at Manahari. Children studying in 11 schools, as well as the residents of the municipality, benefited through the program that consisted of the distribution of first aid boxes, stationery items, and donated clothing. A total of 7 hours were spent in the area by CEI's volunteer team wherein through the help of the local Red Cross post, the team was able to conduct basic first aid training and demonstration aimed towards the community at Manahari.
The CEI volunteer team was able to reach 25% of residents through the aid distribution program along with residents of the area in terms of the training program. Going forward, there are plans to further conduct activities within this municipality in order to reach a greater number of residents in order to bring positive change and outlook towards their lives. Furthermore, plans are being made in order to further increase training as well as aid distribution in Manahari and other rural areas that require aid in urgency.